Spectrum Scale
Software-defined storage to manage unstructured data for cloud, big data, and more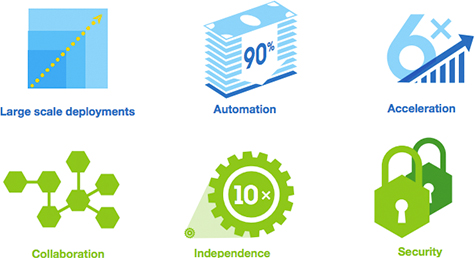 IBM Spectrum Scale is flash accelerated, industrial strength, highly scalable software defined storage that enables global shared access to data with extreme scalability and agility for cloud and analytics.
IBM Spectrum Scale unifies data for virtualization, analytics, file, and object making it available to the entire data center. Spectrum Scale can provide a single namespace for all of this data, offering a single point of management. The namespace caninclude disparate classes of storage and be accessed from around the globe, ensuring that data is always available in the right place at the right time.
Learn more about the sophisticated capabilities of IBM storage solutions that increase efficiency and performance. Contact your Zones account executive or call 800.408.9663.
Highlights
Use standard hardware to dramatically lower both acquisition costs and total cost of ownership
Tailor and redeploy the software-defined infrastructure to meet varying needs, increase flexibility and provide agility for unstructured data
Help reduce storage costs up to 90 percent with automated, policy-driven storage management
Enable file and object storage access with POSIX, NFS, SMB and OpenStack Swift/Cinder
Accelerate input/output (I/O) performance up to six times with local flash cache by reducing the amount of time CPUs wait for data and decreasing the overall load on the network
IBM Spectrum Scale is part of IBM's market-leading software defined storage family and is available in multiple ways:
As a Software-only solution: runs on virtually any hardware platform and supports almost any block storage device. IBM Spectrum Scale runs on Linux, AIX and Windows based systems and IBM recently announced that IBM Spectrum Scale also is available for Linux on IBM's z System platform.
As an integrated IBM Elastic Storage Server solution: a bundled hardware, software and services offering that includes installation and ease of management with a graphical user interface. Elastic Storage Server (ESS) provides unsurpassed end-to-end data availability, reliability and integrity with unique technologies including IBM Spectrum Scale RAID.
As a Cloud service: IBM Spectrum Scale delivered as a service, brings high performance, scalable storage and integrated data governance for managing large amounts of data and files in the IBM Softlayer cloud.
Get the technology you need now without having to pay for it all up front.
Lease it from Zones!
Learn more